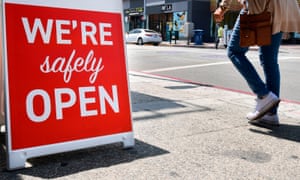 California has seen a 69% rise in coronavirus cases in just two days, governor Gavin Newsom said on Wednesday, as the state continues to battle a surge of new infections and hospitalizations.

The state has witnessed an alarming jump in cases as communities reopen from lockdown restrictions. Los Angeles county now leads the nation with more than 88,500 cases, according to data from Johns Hopkins University.
I wonder why that is?  June 8th, 2020.  18 days ago . . .
Incredible drone imagery of LA protests pic.twitter.com/1CyYqdmf0y

— Justin Stevens (@_JustinStevens_) June 8, 2020
Source: California sees 69% Covid-19 rise in two days as LA county has most cases in US | US news | The Guardian